Our original plan was to open the school in 2020 and send the first students to Japan in 2021, but due to COVID-19, the closure of educational facilities due to the lockdown, the opening of the school has been delayed. We had planned to operate a hotel and restaurant in the rented building to cover operating costs of Japanese Language school, but with limited travel within India and no overseas tourists, we have been unable to open the school. In the winter of 2020, the lockdown restrictions were loosened and the hotel business was opened and the hall was rented out during the wedding season, but in the second half of March this year, the number of people infected with the new coronavirus in India increased and the lockdown was imposed again. So we decided to close the hotel, but we still had to pay the monthly rent and pay our employees, so we had to review our financial situation. In order to save money, we decided to terminate our lease on the building in Buddha Gaya and use part of it as our guest house.
Our Guesthouse
Senamura Yoga Ashram Guest House, located next to the Prema Metta School, started in the fall of 2016 with only one floor. The following year, in 2017, two rooms and a yoga hall were completed on the first floor. The purpose of starting this guesthouse was to make the Prema Metta School self-sustaining and not rely solely on donations. The building was completed with the help of supporters who agreed with this idea. When we first started our business, we did not have many guests because we were located in a village far from the city of Bodhagaya and we were only accepting guests by online booking and recomendation from people. Nevertheless, guradually the number of guests are increasing and people who came to stay with us were all very kind and lovely people who knew about our 'purpose' and were interested in supporting the school by staying with us.
In the winter of 2019, three years after we started our business in 2016, we had a full house and were fully booked for the rest of the year. In 2020, we were able to grow to the point where we were booked more than six months in advance, but the pandemic led to a lockdown, a situation we never thought possible, and we had to close the Prema Metta School and Senamjura Yoga Ashram Guest House. From March onwards it is usually hotter, so there are fewer tourists and fewer guests. So at first we were not too concerned and were optimistic that we would be able to open again around October, when the tourist season is more active, but the situation seemed to have calmed down and we were able to accept two domestic tourists, but in April this year the number of infected people was higher than last year and the situation worsened.
As we could not make enough money to run Prema Metta school and the management of the guesthouse was becoming difficult, we decided to use the guesthouse as a Japanese language school and get a small rent. We got approval from the founding members of the school. This idia also helps Japanese language school to save money as the rent will be less than half of what it used to be.
About using the yoga hall
We have decided to use the Yoga Hall as a classroom for learning Japanese. Meditation and yoga classes are very popular in the spacious and scenic Yoga Hall. Everyone loves and also I love our yoga hall, as this is where I practice yoga and watch the sunrise. I have to admit that I had mixed feelings when I was preparing to use it as a classroom. But in the current circumstances, we think this is the best way for us to start a Japanese language school and to manage our gueshouse. I hope that the students will like that they can study in a quiet, green environment away from the city. We will also be using the yoga hall as a Japanese language school as it is very large, but we will still have half of the space for yoga and meditation. In the future we hope to offer more online yoga classes than ever before.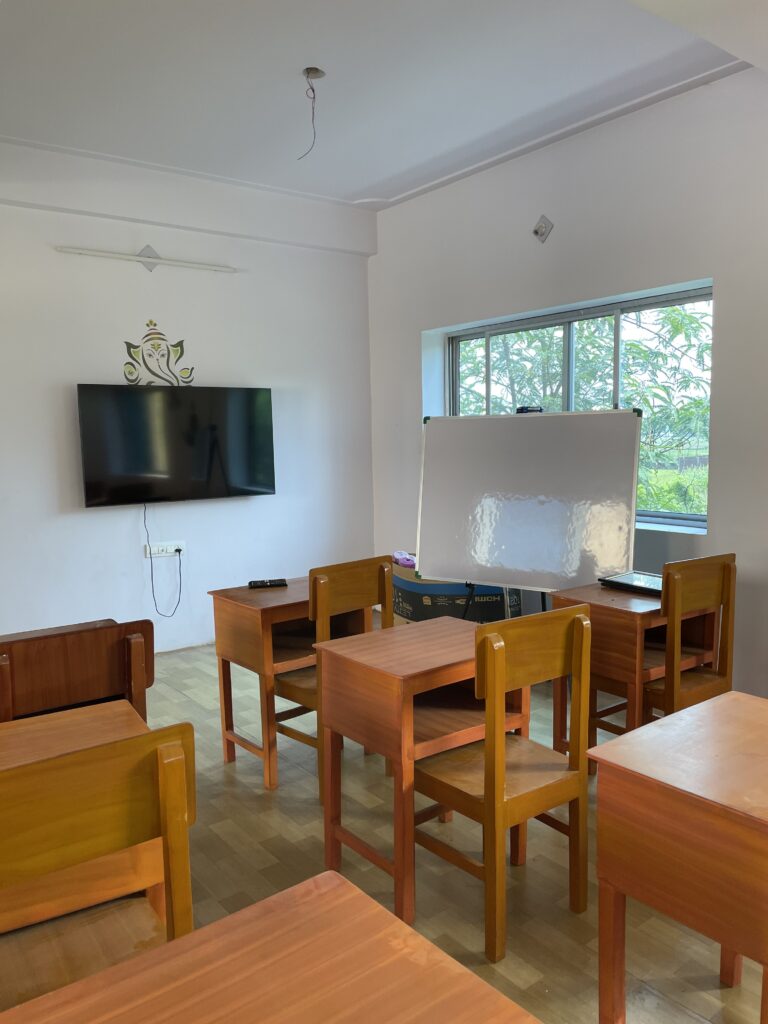 About Guest rooms
You can still stay with us as before.
The future
We are planning to start the Japanese language school by autumn 2021 and send the first students to Japan at the beginning of 2023. By then, the situation with COVID-19 will have changed and the lockdown will have been lifted, so the guesthouse will be able to operate as before. For the next two terms, we plan to move Japanese language school from the guesthouse to another building in Bodhgaya and restore the yoga hall to its original state. If you are able to travel to India sooner than that, please feel free to contact us so that we can make arrangements for yoga retreats.
To all our supporters and guests
Thanks to your support, Senamura Yoga Ashram Guesthouse is being here. We will be running it in a different form for a little while, but we will manage it in such a way that you will always be able to come back and visit us. We look forward to seeing you here in Sujata village.
Thank you for your understanding and continued support.