The other day, an online meeting was held for organizations registered as NPOs and active in Gaya.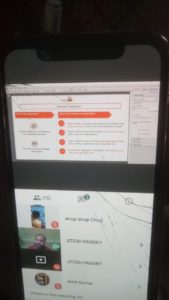 In response to the increase in the number of people infected with COVID-19, we participated in an online meeting to prevent the spread of COVID-19.
In the area where we live, TV and Internet penetration is still low, and some people are unable to read Hindi. So that It is hard for them to get latest and correct information.
The idea was to recruit volunteers to explain the measures to be taken, such as gargling, washing hands, wearing masks and avoiding close contact.
There is also training for those who volunteer to gain the necessary knowledge.
We will try to reach as many people as possible with the right knowledge and information so that they can stay safe.
Now, next week is finally Independence Day.
We are planning to prepare gifts for the children from Prema Metta School on this day.
If you would like to support us, please help us by making a donation.
Thank you!